From Toronto to The Stage: The Robbie Robertson Odyssey ends
infinium-tech
Robbie Robertson was a Canadian musician, songwriter, and guitarist, best known as a member of the rock group The Band. He was born on July 5, 1943, in Toronto, Ontario, Canada. Robertson was a key figure in The Band's success, contributing to their distinctive sound and co-writing many of their songs, including classics like "The Weight," "The Night They Drove Old Dixie Down," and "Up on Cripple Creek."
After The Band disbanded in the late 1970s, Robbie Robertson embarked on a successful solo career, releasing albums and continuing to collaborate with other musicians. He is known for his storytelling lyrics, innovative guitar work, and his role in shaping the Americana and roots rock genres. Additionally, Robertson has been involved in film and television projects, both as a composer and an actor.
Robbie Robertson's influence on the music industry and his contributions to rock and roll have earned him a significant place in music history.
Biography
Robbie Robertson, born Jaime Royal Robertson on July 5, 1943, in Toronto, Ontario, Canada, was a renowned musician, songwriter, and guitarist. He was best known for his work as a member of the influential rock group The Band and for his contributions to the world of music and entertainment.
Here is a brief biography of Robbie Robertson:
Early Life and Musical Beginnings:
Robbie Robertson was of Mohawk and Jewish descent. His mother was Mohawk, and his father had Jewish and Welsh roots.
He was exposed to music at an early age, listening to various genres and styles, including country, rockabilly, and R&B.
In his teenage years, Robertson played guitar in local bands and developed his skills as a guitarist and songwriter.
Formation of The Band: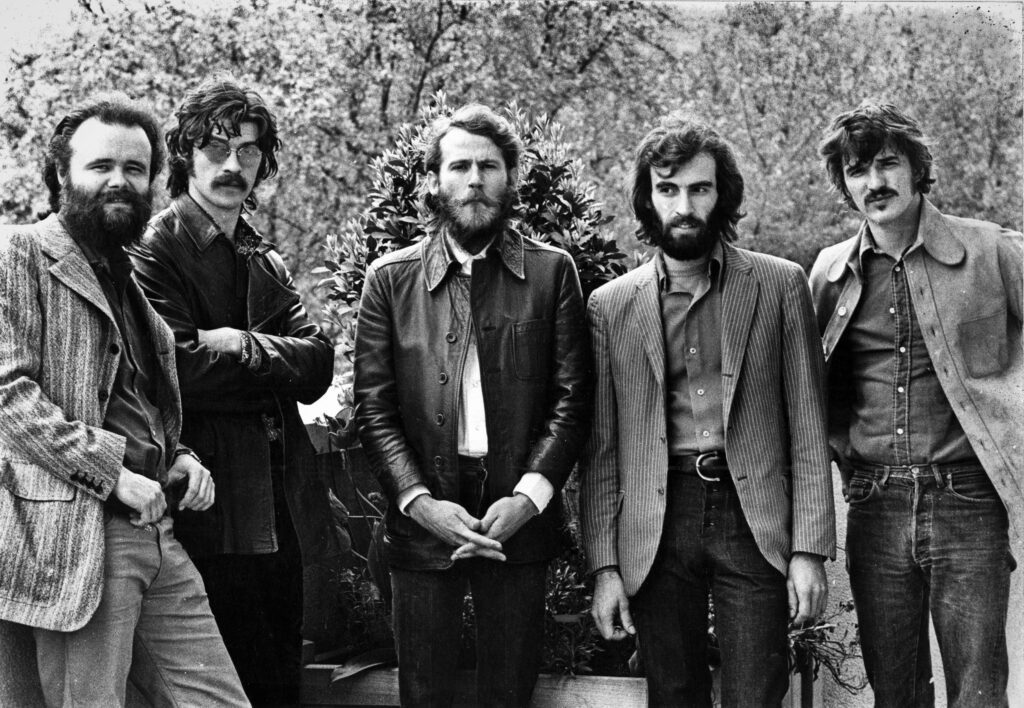 (L-R) Garth Hudson, Robbie Robertson, Levon Helm, Richard Manuel and Rick Danko of The Band pose for a group portrait in London in June 1971. (Photo by Gijsbert Hanekroot/Redferns)
In the late 1950s and early 1960s, Robbie Robertson played in various backup bands for artists like Ronnie Hawkins and Bob Dylan.
In 1965, Robertson and other musicians, including Rick Danko, Levon Helm, Richard Manuel, and Garth Hudson, formed the group that would later become The Band.
The Band gained recognition for their unique blend of rock, folk, country, and Americana influences.
Career Highlights with The Band:
The Band released their debut album, "Music from Big Pink," in 1968. The album's songs, co-written by Robertson, showcased his storytelling songwriting style.
The Band's second album, "The Band" (also known as "The Brown Album"), released in 1969, solidified their reputation as a significant force in the music industry.
Robertson co-wrote many of The Band's most iconic songs, including "The Weight," "The Night They Drove Old Dixie Down," "Up on Cripple Creek," and "Ophelia."
The Band was known for their skillful musicianship and their contributions to the roots rock and Americana genres.
Post-Band Career:
After The Band's farewell concert, "The Last Waltz," in 1976, Robertson pursued a solo career.
He released several solo albums, including "Robbie Robertson" (1987) and "Storyville" (1991), which showcased his evolving musical style.
Robertson also collaborated with various artists and continued to contribute to film soundtracks and other projects.
Film and Other Endeavors:
Robbie Robertson's interest in film led him to collaborate with director Martin Scorsese on several projects. He composed music for films like "Raging Bull" (1980) and "The Color of Money" (1986).
He acted in and contributed to the soundtrack of Martin Scorsese's documentary "The Last Waltz" (1978), chronicling The Band's farewell concert.
Robertson's autobiography, titled "Testimony," was published in 2016, providing insights into his life and experiences in the music industry.
Legacy and Impact:
Robbie Robertson's songwriting, guitar playing, and influence on the roots rock genre have left an indelible mark on music history.
He was inducted into the Rock and Roll Hall of Fame as a member of The Band in 1994.
Robertson's ability to blend diverse musical styles and his commitment to storytelling through music have earned him a place among the greats in the world of rock and roll.
Please note that this is a concise overview of Robbie Robertson's biography, focusing on key points and highlights of his life and career.
Robbie Robertson died at 80 on 9th August 2023 due to prolonged illness in Los Angeles.  For a year, the renowned musician had been battling prostate cancer. In July, he also just celebrated turning 80.